Oroco Blog
By Sarah Max
Mining and mineral stocks don't exactly scream sustainability, but a growing emphasis on renewable energy, sustainable infrastructure, and green transportation is driving incremental demand for certain commodities, particularly copper.
"Over the next 10, 20, 30 years, a lot of capital is going to be allocated toward reaching zero-emissions targets that countries are setting globally," says Nick Niziolek, co-CIO and head of international and global strategies at Calamos Investments.
While he and his colleagues think these initiatives will require a wide range of raw materials, copper is key because it is a highly-efficient conduit. Renewable energy generation is up to five times more copper intensive than conventional power because it is more decentralized and requires multiple, smaller units to be connected to the main grid, according to Calamos research. A single onshore wind turbine requires more than four tons of copper.
Meanwhile, the growth in electric vehicles is also giving copper a lift. The typical EV needs four times more than a comparable internal combustion vehicle, Calamos notes, while copper is also needed for EV charging stations.
A Cyclical Play Gets a Secular Boost 
Copper, like most commodities, has been a cyclical investment whose demand ebbs and flows with economic cycles. Traditionally, roughly half of all copper demand has come from new building construction and infrastructure, Niziolek says, and China has been the single biggest market by far. With many global economies in or entering recovery phases, cyclical demand is on the upswing.
Green initiatives around the world offer a secular tailwind as well. The European Green Deal, President-elect Joe Biden's ambitious climate plan, and China's target of carbon neutral by 2060 all point to increasing incremental demand for copper.
Supply Constraints Add to the Appeal
At the same time copper demand is on the rise, supply has been constrained.
"We think copper is a great commodity because its supply hasn't been developed in a significant way in the last 15 years," Niziolek says, adding that global copper supply over the last three years has grown less than 1% per year, while new copper mines take years to develop. "It's going to take a while for that supply to catch up, and longer term you have those tailwinds that aren't going to abate."
These dynamics haven't been lost on investors, who have bid up the price of the commodity. Benchmark copper on the London Metal Exchange (LME) increased 26% in 2020 and recently reached an eight-year high of just over $8,000 per ton; it's yet to surpass its all-time high of nearly $10,000 in 2011.
Mining Stocks Still Have Upside
At Calamos, Niziolek and his team favor publicly traded mining companies.
"These aren't risk-free investments, but the flip side is there is a benefit of having exposure to a well-run operation," he says. "If you can invest in high-quality miners that are able to develop new resources, have a growth pipeline in place, and then can benefit from a fixed-cost structure and rising commodity prices, we think that's a tremendous opportunity."
Although mining stocks have in many cases quadrupled since their March 2020 lows, many names are still trading below their previous highs, and at a time when fundamentals are improving. "We still think that there's at least 20% to 30% upside," says Niziolek, who owns mining concerns with significant exposure to copper in the Calamos Evolving World Growth (CNWIX) fund.
Take Freeport-McMoRan, a Phoenix-based company whose business is roughly 70% copper, 20% gold, and 10% other, according to Niziolek. The stock plummeted to $7 a share during the selloff last spring and has since recovered to a recent $30. But it is still about half what it was at previous highs of around $60 in early 2008 and 2011.
Canada-based First Quantum Minerals (FQVLF) also derives most of its revenue from copper. "They have a flagship mine in Panama that's been successfully ramping up operations," Niziolek says. Its stock is also trading below its previous highs.
A third example is Southern Copper Corp. , which is also based in Phoenix and focused on copper. "They're one of the lowest-cost providers, and there is also the opportunity for them to de-leverage," he says, noting that many mining concerns increased their leverage to manage the cyclical downturn in demand.
Now, many are taking advantage of increasing demand to pay down debt––which could add additional polish to their stock prices.
——————————————————————————————————————–
———————————————————————————————————————-

———————————————————————————————————————-

What makes for a good commodity stew? A dollop of demand strength. A sprinkle of supply
concerns. A rising cost curve. Minimal threats from alternatives.
We see all these ingredients and more for the copper sector and are thus more bullish than
both consensus commodity forecasts and the forward curve (Exhibit 81).
How do we arrive at these conclusions?
We provide 10 reasons why copper demand is robust (Exhibit 3-Exhibit 34): A 100-year
trend supports growth, Per capita consumption modest but critical, Infrastructure spending
too low, Stimulus programs benefit copper demand, The EV revolution needs copper,
Substitution and minaturization has plateaued, A circular economy for copper is impossible
in the near term, Greening of electricity means copper wins, Copper serves a variety of
endmarkets, and Copper least sensitive to carbon price of the metals.
We provide 11 reasons why copper supply may disappoint (Exhibits 35-Exhibit 65): Copper
is geologically relatively scarce, Ore grades of copper fall over time, Productivity gains have
been stagnant for years, Wage deflation can't offsite productivity, We are finding less and
less copper, We aren't spending enough to find more, We aren't spending enough to
develop more, Ever higher environmental standards are lengthening time needed to
approve, finance and execute mine construction, Consensus supply forecasts over-promise
and under-deliver, Disruptions to supply are significant and inevitable, and Metals & Mining
companies have remained disciplined and have not been paid for growth.
——————————————————————————————————————————————–
Bloomberg Intelligence, October 01, 2020
This analysis is by Bloomberg Intelligence analyst Mike McGlone. It appeared first on the Bloomberg Terminal.
The metals sector has the biggest relative-value edge in commodities, in our view, especially with rising debt-to-GDP, zero rates and quantitative easing so entrenched, and as declines in most currencies vs. gold spill over to other hard assets. Enduring energy-price deflation pressures broad commodities, but limited upside in U.S. stocks vs. GDP signals similar for the dollar — a commodity tailwind. Copper's stalwart 3Q despite equity reversion shapes our view of a nascent metals bull market, bolstered by technology and decarbonization that limit energy prices but boost demand. A peak greenback is a prerequisite for higher grain prices.
Metals gaining relative value vs. dollar, equities
The highest quarter-end level for copper in two years signals a bear-to-bull market transition in the most significant commodity in the Bloomberg Industrial Metals Subindex, in our view. A peak dollar is needed for industrial metals to advance further, if history is a guide. Our graphic depicts copper and industrial metals in a potentially precarious position to start 4Q, notably if the greenback resumes its upward trajectory since 2011. Yet it's looking increasingly difficult for the dollar to eclipse its record high in March.
Greenback mean-reversion potential is gaining as a top driver for most of the past decade, with U.S. stock valuations reaching record levels vs. GDP in 3Q. Relative value favors the metals
Gold push from dollar similar to 2000
The gold bull market that started with the new millennium and a peak greenback is set for resumption, if history is a guide. Our graphic depicts a primary dollar driver — the performance of the S&P 500 vs. global GDP — nearing an overextended level similar to 2000. The apex in the trade-weighted broad dollar came shortly afterward. A big difference back than was the S&P 500 was advancing vs. global GDP and the U.S. portion was on the rise. Peaking just above 30% in 2003, U.S. GDP dropped to about 25% of the world's rate at the start of 2020, leaving a wide gap in the ratio of the S&P 500 vs. global GDP.
Gold is often considered the inverse of the dollar, which is measured vs. other currencies. Up about 80% since the start of 2016 vs. an unchanged greenback is a sign of divergent gold strength.
Crude stocks-to-use optimism subject to realism
Hopeful expectations of a demand recovery for oversupplied crude oil are likely to disappoint and keep prices under pressure. Estimate revisions are often a primary driver of prices, and a key issue for crude is that the trend was unfavorable before the pandemic. Our graphic depicts the sharp decline expected in OECD crude and liquid fuels stocks-to-use, using data from the Department of Energy. The mantra, "Good luck with that one," seems worthy as winter approaches in the northern hemisphere with pandemic agita on the rise. Demand estimates are more likely to be revised lower.
Global crude-oil stocks bottomed in June 2018 and Brent peaked in October that year. We see little to stop the upward trajectory in stocks-to-use juxtaposed with the downward trend in crude oil prices.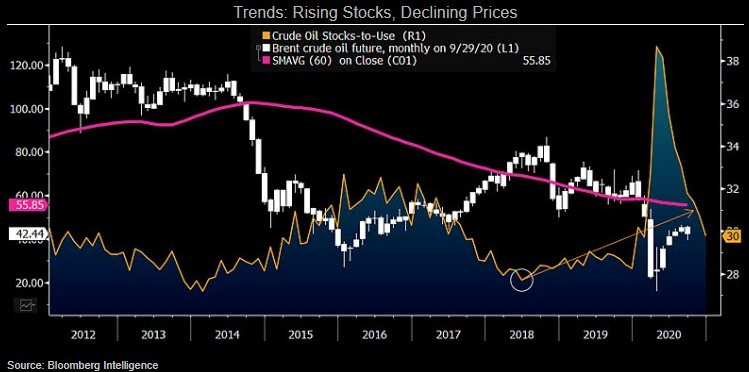 Soybeans, grains near upper end of range
Grains make up the bulk of the agriculture sector and are in a precarious position, approaching a good resistance level within an enduring bear market. Absent an unlikely sustained period of poor weather, supply should remain strong and agriculture prices have limited further upside until the dollar enters a bear market. Our graphic depicts the Bloomberg Grains Spot Subindex near the upper end of its five-year range, with soybeans back in a good resistance zone in the $10-a-bushel handle.
October is typically the best month for the grains index, increasing 3.3% on average in the past 10 years, but following a normally weak September. Early harvest this year and an atypically strong September may shift downside risks into October.
———————————————————————————————————————-
S&P Global Market Intelligence, October 01, 2020
A deficit in the copper market is set to deepen over the next several years as supply of the widely used metal struggles to keep up with strong demand from the power and construction sectors, compounded by the proliferation of electric vehicles.
"Refined output is expected to increase by 4.3% year on year to 24.7 million tonnes in 2021 after decreasing by 2.1% to 23.6 Mt in 2020, primarily as a result of disruptions caused by the coronavirus pandemic," S&P Global Market Intelligence commodity analyst Thomas Rutland said.
Work stoppages due to measures designed to curb the spread of the coronavirus have stalled existing capacity and have delayed investments with long-term repercussions for supply. Chile has been the worst affected followed by the U.S. and Peru.
The second quarter bore the brunt of disruption to refined and mined production, but global output should be similar to 2019 levels in the third and fourth quarters, according to Rutland. "Beyond 2020, we forecast that consumption will outstrip production over the period to 2024, resulting in a growing refined market deficit and increasing copper prices."
"Refined production output will be hindered during this period by slowing mine production growth rates unless there is significant investment in the copper project pipeline," Rutland added.
Fitch Solutions expects the copper market deficit to ease from an estimated 416,000 tonnes in 2019 to 299,000 tonnes in 2020 before widening again from 2022, according to a mid-September report. The analytics provider forecast a shortfall of 489,000 tonnes in 2024, rising to 510,000 tonnes in 2027.
As of late September, 2.9% of annual global supply remained suspended due to the pandemic, with Chile and Peru accounting for more than half of the missing 702,000 tonnes of output estimated for 2020, VTB Capital analysts wrote in a Sept. 28 note. In the U.S., 217,000 tonnes of capacity was shuttered, according to the Russian government-controlled bank.
This leaves miners playing catch-up to develop future supplies of the metal as demand was only mildly impacted by the downturn caused by the pandemic. The price of copper has climbed 6.9% since the start of 2020, defying a massive slump in March, and stood at US$6,574 per tonne as of Sept. 29.
——————————————————————————————————————————————–
by Frik Els
Copper rose above $3 a pound for the first time in more than two years on Wednesday, on the back of falling inventories, a lower US dollar, unprecedented Chinese economic stimulus and ongoing worries about pandemic-hit supply from top producer South America.
Copper for delivery in September trading in New York changed hands for $3.0295 a pound ($6,680 a tonne) in afternoon trade on Wednesday – the highest level since June 2018 and up more than 50% from the covid-19 lows struck in March.
Copper inventories in warehouses operated by the London Metal Exchange fell to 107,525 tonnes this week, down by more than two thirds over the past year and the lowest since August 2007.
New York Comex and Shanghai Futures Exchange inventories are up over the past year, but the combined total is still 165,000 tonnes below August 2019.
At the same time, China's refined copper output in July fell 5.3% from the previous month to 814,000 tonnes, according to government data.
"You have the perfect cocktail of price supporting factors with pick up in demand, supply issues, and expectations for a weaker dollar," Saxo Bank analyst Ole Hansen told Reuters.
Chinese stimulus
Copper prices have also been lifted by top consumer China, where unprecedented stimulus measures have increased demand for the metal widely used construction, transportation, industry and electrical grids.
Since the outbreak of the pandemic, Beijing has issued 4.75 trillion yuan ($683 billion) in local and national debt with a focus on encouraging infrastructure projects, according to China Dialogue.
As of the end of June, 63% of funds from local government special bonds had gone to infrastructure investments, primarily in transportation, civic infrastructure and industrial parks, according to figures from GF Securities.
China's finance ministry has said that 700 billion of the 1 trillion yuan in national special bonds can be used as capital for infrastructure construction (the remainder is to be used for general pandemic-related spending).
Soaring imports
Customs data released last week showed China's unwrought copper imports (anodes and cathodes) in July rose a stunning 81% from the same month last year to 762,211 tonnes and a full 16% above the previous monthly record set in June.
For the first seven months of 2020, imports are running at 21.7 million tonnes annualized, compared to 2019's record-breaking tally of 22 million tonnes.
Over the first seven months of the year, imports totalled 3.6 million tonnes, on track to easily beat 2018's annual record of 5.3 million tonnes.
July imports of copper concentrate rose by more than 12% from June's 9-month low to 1.795m tonnes,  but still down 13.5% from July last year, due to disruptions at mines in Peru, China's top supplier.
——————————————————————————————————————————————–
by Chloe Taylor

The coronavirus pandemic is set to pave the way for "the age of copper," according to the director of energy, climate and resources at Eurasia Group, as governments double down on investments that will drive up demand for the red metal.
The commodity, which is widely seen as a bellwether for the general state of the economy, has taken a hit during the coronavirus crisis.
Slumping demand drove prices down at the height of the pandemic in March. However, benchmark copper on the London Metal Exchange was trading around $5,909 per metric ton Tuesday, up 0.5%. That's close to its five-month high of $5,928 hit earlier this month, Reuters reported.
Eurasia Group's Henning Gloystein said in a research note on Tuesday that the pandemic is expected to accelerate trends in government-supported environmental investments and digitalization, which "heralds a coming boom in copper demand."
"Huge green and digital stimulus programs, especially in Asia and Europe, will create the conditions for a boom in copper demand — electric vehicles, 5G networks, and renewable power generation all require large amounts of the red metal," Gloystein said.
Demand for copper could fall by as much as 5% in 2020 due to the pandemic-driven recession, he projected. But, widescale fiscal stimulus measures would help drive demand for the metal back to pre-crisis levels next year, he noted, with traders and miners expecting consumption to rebound by 4% in 2021.
Bank of America analysts increased their price forecast for the metal earlier this month, expecting prices to rise 5.4% in 2020 to $5,621 a ton. They kept their projection for 2021 unchanged at $6,250 per ton. The forecasts, they said, were down to "remarkable fiscal stimulus packages" and an expectation that there would be more purchases of raw materials as countries emerged from lockdown.
Analysts at Morgan Stanley also expect the sector to quickly bounce back to pre-pandemic levels, according to Reuters, with global stimulus measures, Chinese infrastructure spending and supply disruptions expected to boost demand.
Green investments
According to Eurasia Group's note, clean energy and digitalization programs were expected to push average annual growth demand for copper up by 2.5% this decade, which would likely drive consumption toward 30 million tons by 2030.
Policy changes in Asia and Europe would play an important role in the surge in demand, Gloystein said, with shifts in transportation expected to be the "biggest single driver of copper usage."
"The electric vehicles industry currently makes up just 1% of copper demand. By 2030, many analysts expect that figure to reach 10%," he said.
China was expected to invest hundreds of billions of dollars in digitalizing its economy over the coming decade, Gloystein noted, while countries all over the world had committed to massive investments in green infrastructure and electric vehicles.
"Copper will be a key input for virtually all the industries that are now being promoted," he said. "Welcome to the age of copper."
Political fallout
While Gloystein acknowledged that Southern Hemisphere nations with large copper mining sectors would key beneficiaries from rising copper demand, he noted that China's influence in the industry could see it gain political leverage in both Australia and South America.
"The rise of the copper economy will have political implications," he said. "China's dominant position as a buyer of the raw material will likely give it more political leverage over copper mining regions."
China is the biggest single user of refined copper in the world, according to Eurasia Group, with the country consuming around 13 million tons of the commodity last year.
Tensions between China and Australia have ramped up in recent years after the latter barred Chinese telecoms giant Huawei from its domestic 5G networks, supporting the U.S. in claims that the company's presence in the infrastructure posed national security risks.
Relations have been damaged further recently by Australia's government calling for an investigation into China's role in the coronavirus outbreak, and by China slapping import tariffs on some Australian goods.
While there is some support among Australian lawmakers to recalibrate exports away from China, Gloystein noted that rising copper demand could limit the country's ability to achieve this goal.
Meanwhile, Chinese influence would likely rise in Chile – the world's largest exporter of copper – which is a participant in China's Belt and Road trade initiative, he added.
"Chile's sales to China already represent about one-third of total exports," the note said. "Higher copper sales will likely increase this reliance and expose the country to Beijing's political pressure in many areas, including in Pacific trade negotiations, the use of Huawei equipment, and relations with the U.S."
The same, Gloystein warned, was true of Peru, which exports almost twice as many goods to China as it does to Europe or the United States.
by Frik Els
Copper advanced to 12-week high on Thursday as China's $700 billion stimulus program focussed on so-called "new infrastructure" and "new urbanization" kicked into gear.
Copper trading in New York jumped to $2.5025 a pound ($5,515 a tonne) in lunchtime trade, bringing the bellwether metal's gains since its mid-March low to just under 27%.
BMO Capital Markets, in a research note points out that data from China's Ministry of Finance show the value of special purpose bonds issued – destined for local government spending on infrastructure – has already surpassed the full-year total in 2019.
BMO says "new urbanization" refers to refurbishing old urban housing stock, railways, airports, and upgrades to power grids and local utilities while "new infrastructure" includes 5G networks (base stations are already being constructed at a clip of 10,000 a week), ultra-high voltage power grids, EV charging stations, and data centers.
Needless to say, all of these investments need massive amounts of copper.
China already consumes more than half the world's copper and its refineries are sucking in concentrate at higher rates than the record setting 2019 total of 22m tonnes.
Now the country is going into overdrive.
The latest SMM survey of copper wire and cable fabricators shows a rise in operating rates in May to 101.7%, the highest level in the history of this survey, BMO says.
That's mainly thanks to purchases from the world's no 1 buyer of copper – China's State Grid – after Beijing massively inflated its budget. At the same time copper stocks held in the bonded zone are now below 250,000 tonnes for the first time in the past seven years.
"Copper is the key for the clean energy transition" 
"In the last 5000 years about 500m/t of copper has been produced."
"The world will need about the same amount of copper in the next 25 years to meet global demand"
Source: World Bank, 2019.
Please find linked and pasted below a recent Mining.com discussing the increased demand for battery metals.
Production of battery metals such as graphite, lithium and cobalt will have to increase by nearly 500% by 2050 to meet the growing demand for clean energy technologies, the World Bank reported Monday.
According to the global lender, over 3 billion tonnes of minerals and metals will be needed to deploy wind, solar and geothermal power, as well as the energy storage required to transition to a low-carbon economy.
Many of the critical minerals used to make batteries for electric vehicles are found in developing nations. The World Bank's goal is to help those nations to mine those commodities in a sustainable manner to avert major ecological damage.
"MINING THE OVER 3 BILLION TONNES OF MINERALS AND METALS THE WORLD WILL NEED BY 2050 IS SEEN AS THE ONLY PATH TO LIMITING GLOBAL WARMING TO 2°C OR LESS"
Mining the vast amount of key commodities the world will need is seen as the only path to achieving the goals of the Paris Agreement. The accord seeks to limit global warming to 2°C or less.
The Minerals for Climate Action report says the world will require global carbon emissions of greenhouse gases to be reduced by 50% by 2030 and to net-zero by 2050.
The finds confirm the premise of a first report, published in 2017, which warned that the more ambitious climate targets become, the more minerals and metals will be needed.
While renewables and energy storage technologies require more minerals, the carbon footprint of their production — from extraction to end-use — will account for only 6% of the greenhouse gas emissions generated by fossil fuels.
Source: "Minerals for Climate Action: The Mineral Intensity of the Clean Energy Transition" by The World Bank, 2020.
The report also calls for more recycling and reuse of minerals and notes that even if recycling rates were scaled up for minerals like copper and aluminum by 100%, recycling and reuse would still not be enough to meet the demand for renewable energy technologies and energy storage.
Virus ambush
Some minerals, like copper and molybdenum, will be used in a range of technologies while others, such as graphite and lithium, may be needed only for battery storage.
That means that any changes in clean energy technology deployments could have significant consequences on demand for certain minerals.
The lender warns of the disruptions covid-19 is causing in global markets and that developing countries that rely on minerals are missing out on essential fiscal revenues.
As their economies begin to reopen, the bank noted, they will need to strengthen their commitment to climate-smart mining principles to mitigate negative impacts.
Source: World Bank, 2019.
"Covid-19 could represent an additional risk to sustainable mining, making the commitment of governments and companies to climate-smart practices more important than ever before," says Riccardo Puliti, World Bank Global Director for Energy and Extractive Industries and Regional Director for Infrastructure in Africa.
"This new report builds on the World Bank's long-standing expertise in supporting the clean energy transition and provides a data-driven tool for understanding how this shift will impact future mineral demand," Puliti says.
The World Bank's updated predictions echo a February report by Moody's, indicating that green, social and sustainability bond issuance is expected to hit a combined record of $400 billion just this year. That's up 24% from the previous record of $323 billion achieved in 2019.
Source: "Minerals for Climate Action: The Mineral Intensity of the Clean Energy Transition" by The World Bank, 2020.
The report also calls for more recycling and reuse of minerals and notes that even if recycling rates were scaled up for minerals like copper and aluminum by 100%, recycling and reuse would still not be enough to meet the demand for renewable energy technologies and energy storage.
Virus ambush
Some minerals, like copper and molybdenum, will be used in a range of technologies while others, such as graphite and lithium, may be needed only for battery storage.
That means that any changes in clean energy technology deployments could have significant consequences on demand for certain minerals.
The lender warns of the disruptions covid-19 is causing in global markets and that developing countries that rely on minerals are missing out on essential fiscal revenues.
As their economies begin to reopen, the bank noted, they will need to strengthen their commitment to climate-smart mining principles to mitigate negative impacts.
Source: World Bank, 2019.
"Covid-19 could represent an additional risk to sustainable mining, making the commitment of governments and companies to climate-smart practices more important than ever before," says Riccardo Puliti, World Bank Global Director for Energy and Extractive Industries and Regional Director for Infrastructure in Africa.
"This new report builds on the World Bank's long-standing expertise in supporting the clean energy transition and provides a data-driven tool for understanding how this shift will impact future mineral demand," Puliti says.
The World Bank's updated predictions echo a February report by Moody's, indicating that green, social and sustainability bond issuance is expected to hit a combined record of $400 billion just this year. That's up 24% from the previous record of $323 billion achieved in 2019.
Civilizations have recognized copper's antimicrobial properties for centuries. It's time to bring the material back.
Source Images:ekimckim/Blendswap (toilet),blenderjunky/Blendswap (bathroom)
In China, it was called "qi," the symbol for health. In Egypt it was called "ankh," the symbol for eternal life. For the Phoenicians, the reference was synonymous with Aphrodite—the goddess of love and beauty.
These ancient civilizations were referring to copper, a material that cultures across the globe have recognized as vital to our health for more than 5,o00 years. When influenzas, bacteria like E. coli, superbugs like MRSA, or even coronaviruses land on most hard surfaces, they can live for up to four to five days. But when they land on copper, and copper alloys like brass, they begin to die within minutes and are undetectable within hours. "We've seen viruses just blow apart," says Bill Keevil, professor of environmental healthcare at the University of Southampton. "They land on copper and it just degrades them."
No wonder that in India, people have been drinking out of copper cups for millennia. Even here in the United States, a copper line brings in your drinking water. Copper is a natural, passive, antimicrobial material. It can self-sterilize its surface without the need for electricity or bleach.
Copper boomed during the Industrial Revolution as a material for objects, fixtures, and buildings. Copper is still widely used in power networks—the copper market is, in fact, growing because the material is such an effective conductor. But the material has been pushed out of many building applications by a wave of new materials from the 20th century. Plastics, tempered glass, aluminum, and stainless steel are the materials of modernity—used for everything from architecture to Apple products.  Brass door knobs and handrails went out of style as architects and designers opted for sleeker-looking (and often cheaper) materials.
Now Keevil believes it's time to bring copper back in public spaces, and hospitals in particular.  In the face of an unavoidable future full of global pandemics, we should be using copper in healthcare, public transit, and even our homes. And while it's too late to stop COVID-19, it's not too early to think about our next pandemic.
The benefits of copper, quantified
We should have seen it coming, and in reality, someone did.
In 1983, medical researcher Phyllis J. Kuhn wrote the first critique of the disappearance of copper she'd noticed in hospitals. During a training exercise on hygiene at Hamot Medical center in Pittsburgh, students swabbed various surfaces around the hospital, including toilets bowls and door knobs. She noticed the toilets were clean of microbes, while some of the fixtures were particularly dirty and grew dangerous bacteria when allowed to multiply on agar plates.
[Photo: Backiris/iStock]
"Sleek and shining stainless steel doorknobs and push plates look reassuringly clean on a hospital door. By contrast, doorknobs and push plates of tarnished brass look dirty and contaminating," she wrote at the time. "But even when tarnished, brass—an alloy typically of 67% copper and 33% zinc—[kills bacteria], while stainless steel—about 88% iron and 12% chromium—does little to impede bacterial growth."
Ultimately, she wrapped her paper up with a simple enough conclusion for the entire healthcare system to follow. "If your hospital is being renovated, try to retain old brass hardware or have it repeated; if you have stainless steel hardware, make certain that it is disinfected daily, especially in critical-care areas."
Decades later, and admittedly with funding from the Copper Development Association (a copper industry trade group), Keevil has pushed Kuhn's research further. Working in his lab with some of the most feared pathogens in the world, he has demonstrated that not only does copper kill bacteria efficiently; it also kills viruses. (In 2015, he even demonstrated this phenomenon with a precursor to COVID-19, coronavirus 229E).
In Keevil's work, he dips a plate of copper into alcohol to sterilize it. Then he dips it into acetone to get rid of any extraneous oils. Then he drops a bit of pathogen onto the surface. In moments it's dry. The sample sits for anywhere from a few minutes to a few days. Then he shakes it in a box full of glass beads and a liquid. The beads scrape off bacteria and viruses into the liquid, and the liquid can be sampled to detect their presence. In other cases, he has developed microscopy methods which allow him to watch—and record—a pathogen being destroyed by copper the moment it hits the surface.
The effect looks like magic, he says, but at this point, the phenomena at play is well-understood science. When a virus or bacteria strikes the plate, it's flooded with copper ions. Those ions penetrate cells and viruses like bullets. The copper doesn't just kill these pathogens; it destroys them, right down to the nucleic acids, or reproductive blueprints, inside.
"There's no chance of mutation [or evolution] because all the genes are being destroyed," says Keevil. "That's one of the real benefits of copper." In other words, using copper doesn't come with the risk of, say, over-prescribing antibiotics. It's just a good idea.
In real-world testing, copper proves its worth
Outside of the lab, other researchers have tracked whether copper makes a difference when used in real-life medical contexts–which includes hospital door knobs for certain, but also places like hospital beds, guest-chair armrests, and even IV stands.
In 2015, researchers working on a Department of Defense grant compared infection rates at three hospitals, and found that when copper alloys were used in three hospitals, it reduced infection rates by 58%. A similar study was done in 2016 inside a pediatric intensive care unit, which charted a similarly impressive reduction in infection rate.
But what about expense? Copper is always more expensive than plastic or aluminum, and often a pricier alternative to steel.  But given that hospital-borne infections are costing the healthcare system as much as $45 billion a year—not to mention killing as many as 90,000 people—the copper upgrade cost is negligible by comparison.
Keevil, who no longer receives funding from the copper industry, believes the responsibility falls to architects to choose copper in new building projects. Copper was the first (and so far it is the last) antimicrobial metal surface approved by the EPA. (Companies in the silver industry tried and failed to claim it was antimicrobial, which actually led to an EPA fine.) Copper industry groups have registered over 400 copper alloys with the EPA to date. "We've shown copper-nickel is just as good as brass at killing bacteria and viruses," he says. And copper nickel doesn't need to look like an old trumpet; it's indistinguishable from stainless steel.
As for the rest of the world's buildings that haven't been updated to rip out the old copper fixtures, Keevil has a piece of advice: "Don't remove them, whatever you do. These are the best things you've got."

Julian Kettle
February 18, 2020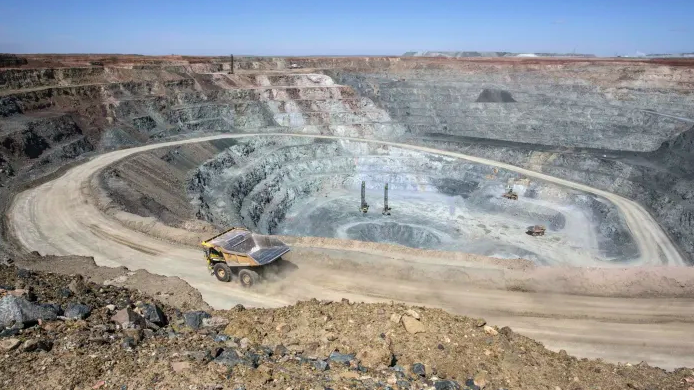 (Financial Times) — The starting gun has been fired. But the shift to cleaner forms of energy is going to be a marathon rather than a sprint, primarily because of huge inertia on both the demand and supply side of the metals equation.
According to Wood Mackenzie's analysis, the metals and mining industry will need to invest $240bn in base metals and gold over the next five years to meet energy transition and other end-use sector requirements.
More funding, however, is conditional on meeting environmental, social and governance (ESG) guidelines, burdening operators with extra investment. Will investors accept lower returns? I think it's a conundrum that will cause some head scratching around the industry as public pressure mounts.
The electrification of transport is redefining several metals markets. As we see demand for batteries grow at an unprecedented rate, battery metals — cobalt and nickel — could face a supply crunch by the mid-2020s.
The story is similar for copper. Global wind technologies are expected to require an average of 450,000 tonnes per annum of the metal per year between 2018 and 2022, increasing to 600,000 tonnes per annum out to 2028. Offshore wind turbines will command an increasing share of copper consumption as larger turbines become commonplace.
Our figures show that more than 20m electric vehicle (EV) charging points are expected to be deployed globally by 2030, consuming over 250 per cent more copper than in 2019. Additionally, copper's use is fundamental to the EV story, each unit typically consuming anywhere between 50kg and 80kg.
For lithium, the story is somewhat different. With too much, much too soon, and a response to high prices, as well as unfulfilled hype around EVs, there is no need for additional supply until the mid-2030s.
So, where will the required supply come from? Some commentators have suggested substitution as a solution.
Aluminium is the only alternative to copper. However, despite it being lighter and almost three times cheaper, copper wins on size and efficiency. There is no magic bullet, silver or otherwise.
Unless the sector can provide the sufficient and timely supply of critical commodities, while delivering the "necessary" financial returns, meeting the ESG-related performance expected of it while minimising the carbon burden being placed on the planet, metals will rapidly become the disabler rather than enabler of the energy transition story.
The social awakening around the long-term damage plastic has on our environment was sudden and severe. It is undeniable that, when viewed from pit to population, producing metal also produces carbon. As greater transparency is created, and demanded, around what that carbon contribution is, there may be a corresponding reluctance to consume the amount of metal we do.
And will the shifting goalposts of domestic mining and fiscal legislation, along with rising civil challenges, push western investors to prioritise near-term dividends over long-dated cash flows? While governments are increasingly talking about the need to secure critical minerals, the rhetoric has not yet been backed up with strategies that will facilitate investment from those producers who will need to develop resources.
The exception to this is, of course, China. With its long-term perspective, a desire to wean itself off imported oil, access to cheap capital and a willingness to turn a blind eye to ESG issues that others cannot, the country is racing ahead and dominating ownership of the necessary raw materials to create a self-sufficient supply chain.
Julian Kettle is vice-chairman Metals & Mining at Wood Mackenzie, a natural resources consultancy.
The Commodities Note is an online commentary on the industry from the Financial Times
January 13, 2020
(Bloomberg) — The price of copper, a barometer for the global economy, could jump in 2020 with capital spending for new production down and stockpiles tapped out at a time when U.S.-China trade tensions are easing.
The threat of a long trade war limited mining activity and kept manufacturers from adding to their stocks. The result: Inventories at warehouses tracked by the three international exchanges, a last resort for supply, have shrunk by about 37% since July to just shy of 300,000 tons, equivalent to just 1.2% of global consumption. Meanwhile, mine production fell 0.4% last year from 2018.
That has large international banks largely bullish on the metal. Citigroup Inc. sees demand in China, the top consumer, jumping 2.6% after barely rising in 2019, powered by power grid and automaker investments. Goldman Sachs Group Inc. analysts see prices at $7,000 a metric ton in 2020, according to a December report. That follows a 3.5% gain to $6,174 in 2019.
"Europe and developed Asia have been destocking pretty aggressively over the past six months or so," said Colin Hamilton, an analyst at BMO Capital Markets, by phone. "You can't do that forever."
Copper, a malleable conductor of both heat and electricity, serves as a barometer of global economies because of its broad use in wiring and motors, construction materials, electronics, and in vehicles for everything from radiators and connectors to brakes and bearings.
Copper's tight supply situation was masked by the trade tensions, according to Darwei Kung, head of commodities at DWS Investment Management Americas Inc., who is bullish on the metal. Now with a preliminary truce between the countries, copper is looking "positive" this year, he said.
But it's no slam dunk. Traders and analysts surveyed by Bloomberg last week remained neutral on copper, awaiting the signing of the so-called phase-one trade deal between the U.S. and China, as well as further clarity in the U.S.-Iran standoff as Chinese fuel supplies could be substantially impacted.
"Copper seems to have found a good short-term base above $6,000 but a further rally may have to wait" until after the preliminary trade truce is signed, said Tai Wong, the head of metals derivatives trading at BMO Capital Markets.
Some analysts expect the downward trend in China's gross domestic product growth to continue slowing, despite the recent breakthrough with the U.S. on a first-step trade agreement, limiting copper's upside.
"You can't be greedy in this kind of environment," BMO's Hamilton said. Any further escalation of geopolitical tension has the potential to dampen economic activity and weaken demand for base metals, Goldman Sachs analysts said after the Iranian crisis.
While recent manufacturing data in key copper-consuming markets -– China, Germany and the U.S. — have been uneven, the fact that they are "not getting worse is actually positive," said DWS's Kung.
German manufacturing remains burdened by issues ranging from the U.S.-China trade conflict and Brexit uncertainty to its own struggles to manage the auto sector's shift to electric vehicles. But its latest industrial output data offered a cautious sign that Europe's economy may be near the bottom of its manufacturing slump.
In Asia, which accounts for more than 60% of copper demand, manufacturing finished 2019 with a modestly brighter outlook, with fewer economies signaling contraction at factories.
Seiichi Murayama, the head of JX Nippon Mining & Metals Corp., the owner of Japan's largest copper smelter, last week called copper a "growth metal" driven by the need for infrastructure in emerging Asian countries. But he warned that continued progress is needed between the U.S. and China for the market to continue growing.
In China, the manufacturing sector continued to expand in December, adding to evidence that the world's second-largest economy is stabilizing.
The manufacturing purchasing managers' index remained at 50.2, and the outlook for export-oriented firms brightened, with a sub-index of new orders for export rising above the 50 mark for the first time since May 2018. Production recovered for a second month and output prices narrowed their decline.
China's central bank's willingness to provide liquidity, reflected by its move earlier this month to trim the amount of cash that lenders must hold in reserve, will also be "helpful for demand and pricing," said BMO's Hamilton.
January 8, 2020:  Copper set for rebound as trade tensions ease
Please find linked and pasted below a recent Mining Journal article discussing a potential copper market rebound in 2020.
Copper rose 6.7% in December. The month saw an average price of $2.74/lb, improving on an otherwise stagnant 2019 for the red metal, which saw an average price of $2.72/lb, down 20c or 7% from its $2.92/lb average in 2018. Last year was one in which copper's impetus to rise was checked by the US-China trade dispute, despite a growing tightening in copper supply as evidenced by treatment and refining for copper concentrates falling to lows of $67/6.7c.
Mine supply is reducing as lower grades continue to bite, notably at the emblematic BHP-operated Escondida mine in northern Chile, where production fell 8.4% in the nine months through September 2019 to 870,970 tonnes compared with 950,889t produced in the same 2018 period.
With lower prices and lower production, Escondida's 2019 profits were below previous years. Escondida saw profits fall 20% to $1.1 billion in the nine months to September 2019 while Chile's state copper company Codelco saw a 57% drop to $603 million in the same time period.
Lower profits and sub-$3-3.50/lb prices mean copper miners are hesitant to invest in new capacity. However, Chile's Cochilco copper research agency reported that the country would see $10.4 billion in mining investment in 2020, some 57% more than in 2019, with 85% of that earmarked for copper projects.
"From a more macro point of view, there remains a deep disconnect, relatively speaking, between low prices and low inventories of metal held in warehouses. One does not need to spend a great deal of time doing an in-depth analysis of the markets to see the incongruity, just glance at where inventories were for each [base] metal a few years ago, and where they stand now and you will see our concern," said copper consultant John Gross in the Copper Journal Monthly Report published in early January.
Peru, meanwhile, expects $6.2 billion in mining investment in 2020 in seven projects, although the majority of that investment will be in precious metals projects and base metals other than copper.
This includes a $579 million brownfield expansion at the Corani silver mine in Puno by Bear Creek Mining to lift its production to 9.6 million ounces a year. In northern Peru, the Yanacocha Sulphides project represents investment of $2.1 billion to optimise tailings storage at the gold mine, which from 2023 will produce 350,000oz/y and 544,000t of copper. Polymetallic miner Buenaventura is also expected to start construction of its San Gabriel gold project in Moquegua with an investment of $431 million.
Glencore subsidiary Minera Antapaccay plans to invest $590 million in the Coroccohuayco copper project in Cusco, which aims to extend the life of the Tintaya mine and see it process 20,000 tonnes per day to produce 105,000tpy of copper.
On the exploration front, Peru's SNMPE national mining, petroleum and energy association, foresees exploration spend falling in 2020 for a second consecutive year.
"As a result of delays in obtaining permits and the different administrative and bureaucratic obstacles, investment in mining exploration maintains worrying contractual trends. Thus, while in 2018, $413 million in investments were reported, this year we will hardly approach $360 million," executive director of the SNMPE, Pablo de la Flor, said in a statement.
Exploration expenditure rose to $625 million in 2014.
December 17, 2019: Copper Tapped as the Next Big Metals Trade of 2020
Please find linked and pasted below an article published by Bloomberg discussing the copper market outlook for the new year.
By Aoyon Ashraf, December 16, 2019
Copper, often called "Dr. Copper" due to its correlation with the economic cycle, could be the trade of 2020, as most industry analysts expect a "lift-off" for the metal as global demand recovers.
Gold miners had a blockbuster year in 2019 owing to expectations of U.S. Federal Reserve rate cuts and as geopolitical tension mounted between the U.S.-China. But concern about dampened global demand as a result of trade threats left base metal miners limping into the new year.
But that might reverse next year thanks to improved demand, making copper "poised for liftoff," according to Jefferies analyst Christopher LaFemina. Low copper inventories, high short positions, supply constraints and better demand are creating conditions for the metal to rally, he wrote in a note to clients.
Joining LaFemina in his optimism is Goldman Sach's Jeffrey Currie, who thinks copper is "set to inflect" in 2020 due to strong growth out of China. Morgan Stanley, Bank of America and Citi also have positive expectations for copper and an improving global economy.
History shows that base metal miners have often caught up with gold equities after precious metals outperformed. The S&P/TSX Equal Weight Global Base Metals Index (TXBE) underperformed the S&P/TSX Equal Weight Global Gold Index (TXGE) in 2016, but caught up by the end of 2017. If analysts are right about the outlook for copper in 2020, the same trend may be coming soon.
Here is what the analysts are saying about what to expect for metals and mining in 2020:
Jefferies
The firm is most bullish on copper miners for 2020 as current supplies won't be able to meet "even a modest cyclical recovery in demand," LaFemina wrote. Expects Freeport-McMoRan Inc., First Quantum Minerals Ltd. and Glencore PLC to benefit most from the copper price recovery. Freeport and First Quantum are his top picks. Also expects select iron ore miners such as Anglo American PLC, Vale SA and Rio Tinto PLC to outperform as prices are expected to remain high, peaking at more than $100 per ton in the near-term. The firm is "least bullish" on gold.
Goldman Sachs
"Copper is our most bullish view," for 2020, according to the commodity team. Copper demand in China has been particularly restrained by "poor performance in the grid, property and transportation sectors" and that's likely to change heading into 2020. "We expect strong completion growth in the next two years, continuing a positive trend in the property sector since August," and grid investment is likely to pick up strongly in the first quarter of 2020 thanks to the government infrastructure stimulus. Meanwhile, the "strategic case for gold" is still strong.
Citi
Most bullish on alumina, copper and coking coal in 2020, while bearish on zinc and iron ore. Thinks commodities will benefit from modestly higher global growth, with much of the improvement coming from emerging markets. The commodities team is also bullish on gold in the medium-term. The bank's equity analyst upgraded Teck Resources Ltd. to buy on better a coking coal outlook and valuation.
Morgan Stanley
The bank's commodities team expects a moderate rise in demand in 2020, driven by a "mini-cycle recovery" through year-end. Remains constructive on the North American mining sector and particularly favors copper exposure. Sees Freeport-McMoRan and Teck Resources as the best way to gain exposure to bullish copper sentiment. Commodities team is bearish on the aluminum and alumina outlook, but the equity analysts still see some upside in 2020 for Alcoa Corp. The team also expects higher met coal prices as ex-China demand should tighten the market. Bank's top commodity picks are cobalt and copper, while the least preferred are iron ore, lithium and zinc.
Bank of America
Sees cyclical raw materials benefiting in 2020 from a potential inventory restocking cycle, easier Fed policy and an interim China trade deal, providing an attractive inflation hedge. Thinks that copper and nickel are likely to rally in 2020, while the outlook for gold and precious metals is more cautious.
December 12, 2019:  RBC Research – "Copper building momentum going into 2020"
Click on the link below for timely copper market research from RBC Capital Markets.
https://orocoresourcecorp.com/wp-content/uploads/RBC-Copper-building-momentum-going-into-2020_2.12.19.pdf
If in doubt about the case for investing in copper, whether the metal itself or through a copper-mining company, then the man to ask is the boss of the world's second biggest gold-miner, Barrick Gold.
Mark Bristow, the straight-talking South African chief executive of Barrick, emerged last week as an advocate for copper as a metal most likely to succeed in a world with an increasing appetite for everything electrical.
A Bigger Copper Footprint
While gold seems likely to remain the backbone of Barrick, it could also have a bigger copper exposure because, in Bristow's words: "Where we have opportunities to secure or expand our copper footprint, we will."
Why copper appeals to Bristow is the potential for rapid and significant demand growth at a time when supply seems to be peaking as old mines run short of high-grade ore and new mines prove hard to find and increasingly expensive to develop.
Copper, to Bristow and a number of other well-connected mining experts, is morphing from its traditional role as an industrial metal into a strategic metal which is developing new markets in electric cars (which use four times as much copper as a gasoline-powered car) and in renewable energy systems such as wind and solar which are also copper-heavy.
Until recently, copper was not a hot commodity, marked down by investors because of the potential for a demand decline caused by the China v U.S. trade war.
From a peak price earlier this year of $2.96 a pound copper has slipped to $2.64/lb, though that price is actually up 11c on the low point of $2.53/lb reached last month.
Gold Fades As Confidence Grows
What makes that modest copper-price recovery interesting is that it has occurred as another metal, gold, has been falling – almost as a mirror-image to copper. Gold is down 4% over the past month to $1469/oz, whereas copper is up 4%.
Whether much can be read into the direction of the two metals is an interesting question, especially when the views of seasoned gold-miners liked Bristow are considered along with the new-found interest of other mining leaders in copper.
Brian Gilbertson, another South African with mining in his blood, has nominated copper as a prime target for a new fund he is setting up with the metal trading firm Traxys, which has the asset manager Carlyle Group as its major shareholder.
A former chief executive of BHP, the world's biggest mining company, Gilbertson is now most closely associated with the private investment vehicle, Pallinghurst Group, which has a range of mining interests and plans to become a significant player in the world of battery metals, a group that includes lithium cobalt, nickel and copper.
The Pallinghurst-Traxys Battery Materials joint venture will look for controlling interests in mines and processing facilities in order to grow exposure to the electric vehicle and energy storage revolution.
In terms of timing, both Bristow and Gilbertson are betting on the rise of battery metals, especially copper and nickel, as signs grow of a possible end to the trade war which, if it happens, will drive demand for basic raw materials.
Boiled down, there appears to be a "risk on" shift which will boost industrial commodities, and a "gold off" move as funds are rotated out of safe havens into segments of the commodity market exposed to growth.
Copper Shorts Shrink
A significant shift in speculative sentiment towards copper was noted last week in a report carried by the Reuters news service. It said a record net-short position in the CME copper market of 74,597 contracts just three months ago had collapsed to just 17,838 contracts with a short position.
Funds and private investors turning bullish about copper coincides neatly with Bristow and Gilbertson naming copper as a metal of interest in their future growth plans – and the decline of gold as the appeal of safe havens fade.
Investment banks are also slowly subscribing to a "copper on, gold off" investment thesis.
Morgan Stanley, for example, has copper as the second hottest metal on its "investment heat" list, topped only by cobalt. It also sees gold being a metal at risk of a sharp correction.
"We see increasing risk to out 2020 first-half (gold price) outlook of $1515/oz, assuming continued progress on a China-U.S. trade agreement is made," the bank said.
Morgan Stanley now sees the potential for gold to retreat to its bear case of $1394/oz in the first half of next year.
November 12, 2019:  Copper Market Commentary
Please find linked and pasted below interesting commentary on copper markets and possible M&A in the sector. 
"Funds are starting to turn more bullish on copper" – Andy Home, Reuters
"Barrick gold chief eyes growth in 'strategic' copper" – Neil Hume, Financial Times
October 24, 2019: Copper Commentary from Jefferies
Please find linked and pasted below a timely commentary on copper markets.
Bank says China Inc has copper timing right